by Sue Webber, Contributing Writer, Sun Newspapers, September 18, 2015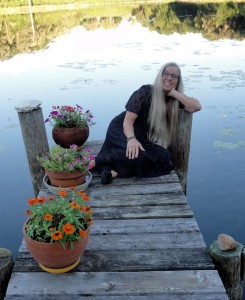 Holly Jorgensen was a teacher and a librarian before she retired four years ago. "Teaching was my first and main career," she said. "I've done it all my life, in different situations. But I also stayed in the Hennepin County Library system for 19 years, and that was a huge benefit because I could retire with a small pension." Free from a formal, full-time teaching job, she is now writing a book, doing some public speaking, maintaining a blog, keeping a journal and, in her own words, "living in a little paradise in an extraordinary spot" on a tiny lake in Lakeville.
But that doesn't nearly explain the extent of Jorgensen's lifetime of employment, which encompasses 45 different jobs in all and includes performing and singing. She is, first and foremost, a person who lives frugally, naturally and organically. "I live lightly on the earth and close to the land," said Jorgensen, who treasures her connection to animals and nature.
"I am probably the most frugal person you will ever know, and that's a blessing." "My book, 'Free, Green and Frugally Rich – Scenes from a Joyful Life,' allows me to share, on a broader scale, what I've learned through my rich life experiences," Jorgensen said. "It has stories of finding nearly everything I need (and some I didn't need, but love, like my totem pole) at rummage sales or on the curb. Even if you can't see yourself ever looking in dumpsters, it offers advice on how living mindfully and creatively can give you a brighter financial outlook and a freer spirit."
She was doing the final editing on her book when her mother was diagnosed with dementia, Jorgensen said. "So my book is on hold while I stay available to Mom," she said. "After all, the book is about values and priorities, and the rewards of following what is truly important in our lives. Mom has always blessed me with her simple, yet profound wisdom, and continues to do so."
The plethora of jobs Jorgensen has held all brought important life experiences, she said. As a teenager, she worked as a nurses' aide at 16, got a job as a car hop at Bridgeman's, waited tables in a number of places, and worked at a bowling alley. "I never made a lot of money, but all of those jobs gave me such valuable life experiences," Jorgensen said. "I was never ashamed to do any kind of work. My parents taught me to value people for what they are."
After earning a degree in elementary education, Jorgensen tutored special education youngsters in Minneapolis and then taught first graders in Lakeville. But even before that – as a college student and earlier – she always worked at a number of part-time jobs, sometimes more than one job at a time. "I've done a lot of things; I worked my way through college and I did a lot of other jobs to support myself," Jorgensen said.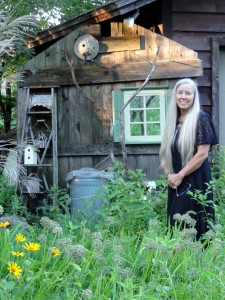 "I always worked at camps in the summertime, teaching swimming, or as a lifeguard, or a counselor. I guided canoe trips in the Boundary Waters. I taught reading in the summer. I even worked in a balloon factory once." She provided security at a health club and at a local bar. She had an adult paper route for exercise. She worked with plants at a nursery. She worked with profoundly disabled children at the Dowling School in Minneapolis. She worked for a year on the night staff at St. Joseph's Home for Children. She volunteered at a hospital and at the Minnesota Zoo. She worked behind a video camera for a couple of programs, and did voice work for some commercials.
One summer she worked in costume at a presentation about the importance of water quality. The next summer, she was in a program about wild flowers and seeds, "before prairie gardens became popular." "I learned a lot from every job," she said. Jorgensen has written a number of songs and first sang in public at the age of 28, with almost no training, she said. "That gave me confidence," she said. "I loved music so much. I forced myself to come out of my shell and become comfortable on stage." Out of that grew a chance to write, produce and perform in a small musical. She also developed a program of slides and music that she has presented at schools, churches, libraries and civic groups. "Blues was what I loved the most and sang the best," Jorgensen said. "When the bar scene got old, I wrote myself a little play so I could sing my own songs and the jazz standards I loved, without the smoky air and beery floors.
When invited to sing black gospel songs in the Rance Majestic Choir, I gave it a try, and stayed for eight years. We sang in prisons, in the Bahamas, in the Guthrie's Gospel at Colonus, and once backed Michael Bolton. "I had a ball and learned a ton, not to mention the friendships I found and still treasure," she said. "I have been blessed to work with some wonderful musicians who have mentored me in writing and performing."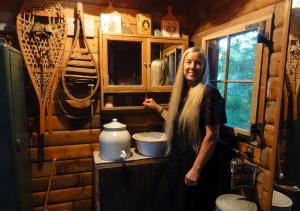 In 2005, Jorgensen began speaking to groups about her unique lifestyle, sharing a slide program called "Saving Money, the Planet and Your Sanity," and found that speaking about it has deepened her commitment. In the 1970s, Jorgensen lived for seven years in a log cabin on Lake Marion in Lakeville. Twenty years ago, she moved to her current home on a different lake in the city. She has built a little cabin on that land with scrap materials she found. Jorgensen grew up in Richfield and Bloomington and learned many of her frugal values from her mother, who was a seamstress and created hundreds of quilts, using scraps of cloth from old clothing. "That's very symbolic of the way I live," Jorgensen said.
"I'm really independent. I really love my life. It's not easy, but it is rewarding. I always thought I would get married and have children, but as a teacher, I've always been around children." She has always kept a journal, and she hangs onto them, 73 in all since she began. Jorgensen encourages retirees to get a job or find a way to volunteer, doing something different from their career. "It has rich rewards," she said. For more information about Jorgensen, her book, or Northern Holly Creations, go to www.hollyonthelake. com